Arcane: League of Legends - The Loop
Play Sound

Hiring is the method that the player can get new Agents by spending LOB Points. Hiring employees is only available in the Deployment Phase. The button to 'Hire' Agents is at the right side of the screen, at the right side of the 'E.G.O. Equipment' button.
When hiring a new Agent, they will get a randomized aspect and name. A base Agent cost 1 LOB Points and the player can increase their initial




Stat Levels by spending additional LOB Points. The Stat values are calculated after being hired. New hired Agents will obtain a random Primary Title + Secondary Title, related to their Agent Level after being hired.
They cost 1 LOB Point more for each additional Level to upgrade.

Justice cost the triple of LOB Points. Example: Increasing from Level 1

Fortitude to Level 2 will cost 1 LOB Point. Increasing it from Level 2 to Level 3 will cost 2 LOB Points. Increasing it from Level 1 to Level 3 will cost 3 LOB Points.
If the player has

Hod's Sephirah Meltdown Reward, all new Agents hired will have all their base Stat Levels at Level 3 for no additional cost. You can still decrease their Level down to 1 for no cost. The cost to upgrade them to higher Levels is the same.
Their current Agent Level will be according to the number of their Stat Levels after being hired. This process is also applied when improving the Stat Levels of existing Agents.
Base Level
I
II
III
IV
V
EX
Values (Minimum)
>29
30
45
65
85
100+
LOB Points Cost to Upgrade

to the respective Level

X
1
2
3
4
6

Justice

Upgrade
X
3
6
9
12
18
Total Stat Levels to Upgrade

the Agent's Level

4
6 (2)
9 (3)
12 (3)
16 (4)
X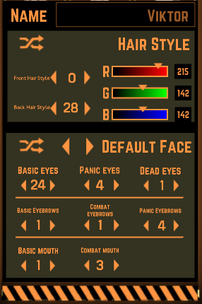 A player can also Customize their hired Agent by spending 1 LOB Point more, by clicking the button below the Stats.
This will allow them to change the Agent's: Name, Hair Style (Back and Front), Hair Color, Eyes, Eyebrows, Mouth, Combat Aspect (Mouth, Eyebrows), Panicked Aspect (Eyes, Eyebrows), and Dead Aspect (Eyes). They can view their respective aspects too while changing their aspect. The player can also randomize those aspects by pressing a button at the top left of the two windows.
Some unique names (Which are Backer Names) include unique Hair Styles and colors if the Agent is named as one of those names.
A player can also add new Hair Styles and facial features to the pool of options by uploading them into the game files, allowing custom player content.
Agent Names (161, 346 in Total)

Acacia
Adam
Alex
Alisa
Anastasia
Angel
Angelina
Anthony
Anton
Ara
Arang
Archer
Asera
Ashely
Aurora
Basil
Bella
Bong-Bong
Brook
Brown
Camille
Cedric
Charlotte
Christoper
Cloie
Cooper
Corbinian
Courtney
Dakota
Dana
Daniel
Daphne
Delaney
Delilah
Destiny
Devona
Dexter
Dia
Diva


Eden
Elena
Elisa
Emilia
Emma
Eugene
Eva
Evangeline
Everett
Evgeni
Finn
Firenze
Frank
Gabriella
Galina
Geminiano
Genie
Georgia
Gonzales
Gregory
Griffin
Gustafsson
HaLynn
Hana
Hannah
Hao
Harry
Haru
Hoon
Hunter
Igoree
Isabel
Jacob
Jake
Joel
Jose
John
Johnson
Joshua
Joy
Julian
Juliet
Justin


Katya
Khanna
Kinsley
Knox
Lamarcus
LaVerne
Loki
London
Louis
Mabel
Maki
Mao
Marinel
Maritza
Mary
Mason
Mason
Max
Maxim
Maximin
Maxwell
Mckenna
Mei
Melendez
Micaela
Miho
Mika
Mirabelle
Morty
Narae
Neville
Nicolas
Nicole
Noah
Odelie
Olive
Oliver
Onorio
Orga
Owen


Pansy
Parker
Paul
Paulinus
Piper
Poussey
Quinn
Ramirez
Ray
Reinhardt
Ria
Rino
River
Robertus
Rogun
Rose
Ruby
Ryn
Samuel
Sanchez
Sergey
Shao
Summer
Susan
Tasha
Tatyana
Tiffany
Tim
Tom
Velasquez
Vera
Viktor
Vincent
Wetherby
Xavier
Yoon-hoo
Yui
Yumi
Yum-yum
Yuri


Agent Names (Backers, 185)

Agmongdolae
AKANE
Alex
Anbidam
Anhyewon
AOI
Aqua
Aran
Arskit
AsteroidCow
Asuka
Badatkke
Baksseyeong
Batwardenman
BetaLactam
Binsseusami
Chawoni
Cheonglyuhwa
Chesyeo
Chikala
Choehyojun
Choihyekyung
Choikunyoung
Crizan
Crowley
Currince
Dassae
Doongde
Doremi
Dr.Noh
Eke
Elfind
Ellen
Emyakeu
Epibinea
Eugenie
Eunwoo
Eunuk.Kim
Flying Turtle
Gary
Geomeuntugu
Gibril
Gimmiyeog
Gimtteol
Glassesraccoon
Gomjabneuneobu
Goodie


Haeil
Haiyan
Hanzo
HealYO
Helligun
Herald
Herald
Hodomi
Hyeonneu
Hyesul
Igiluijeonbu
Ildandaechung
Imidiot
Jaewani
Jeonghyeongseog
Jeonsangmin
Jiyeon
Jiyucheonmu
JJ
Jjukkuruk
Johuijin
Kaerno
KANELI
Kangseokjun
Kannajun
Karyu
Khabib
Kimdaeri
Kimhanseul
Kimhuil
Kiminsung
Kimjisang
Kimlek
Kim Nari
Kimsungwook
Kimsuse
Kingaleppu
Kukuru
Kyokyo
Leaked Ghost
Leblack
Leeeojin
Leeeunseop
Leeheechang
Leeseungeun
Leeshihyung
Leesihan
Leoneom
Limjaeyeol
Liverty
Lubi


Magoyeon
Mahason
Maidssi
Marinerabbit
Mei
Mew
Minsung
Mishka
Misona
Moonjeongho
Morrigan
Mr.Black
Mr. Kuang
Mwoileonnom
Myukeu
Nadia
Nae
Nanloinhyeong
naragu92
NATSNATSMON
Nbducku
None
Nyalurat
Oswyn
Pam
PESCA
Poovely
Ppodae
raika
Realism
Rema
Retieoseu
Rica
Rigeuressya
Riyuki
Romi
Ryuisel
Ryul


Saengseonsaeng
Sangkomi
Seiro
Seoboregi
Seubi
sheen
Shepherd
Siki
Simgyutak
Sisyu
Sleepy
Slothtiger
Sobin
Soeol
SOLN
Somubusuta
Songhaengnam
Sorin
space
SpeciaLee
Spireal
Stemcell-642
Storm
Stormsoder
Surolanter
TaengTaeng
Toki
True
Tteunguleum
Ttungsil
Uraenseu
Usaming
Valcez
Viatrix
Wakalimasittang
Walwalson
Warwarsn
Wei
Weirdo
Wilson
Yangchisu
Yetti
Yongki
Yoonjae
Yoonjung
Yui
YUKARI
Yumeka
Zoe

Facility X-394

Mechanics
Bullet Research - Challenge Mode - Daily Cycle - Damage Type -

Emergency Level

- Employees - Equipment - Hiring - LOB Points - Missions - Ordeals -

Qliphoth Meltdown

-

Rabbit Team

- Research - Risk Level - Sephirah Meltdown - Stats
Departments
Asiyah:

Control Team

-

Information Team

-

Security Team

-

Training Team


Briah:

Central Command Team

-

Disciplinary Team

-

Welfare Team


Atziluth:

Record Team

-

Extraction Team

-

Architecture Team

Characters

X - Angela - A - B - Malkuth - Yesod - Netzach - Hod - Tiphereth - Chesed - Gebura - Hokma - Binah